VDSMART Technology JSC was honored to receive the award for the EyePro product – AI Robot solution to automatically monitor human resources in the category of New Technology Products.

This is a product that applies AI technology, inherited from VIEBOT Robot born in 2017 capable of recognizing faces, age, gender, etc., and especially capable of learning and copying human gesture.
(Watch Video https://www.youtube.com/watch?v=TAGNSjfLCQU)
Information about VIEBOT humanoid robot has been widely broadcast on TV channels such as VTV, VTC, THND, etc. and well known.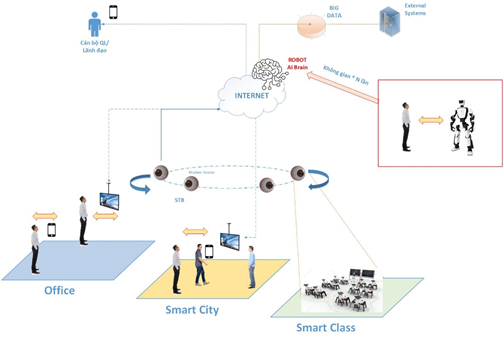 In the EyePro product, the Robot's Brain is capable of connecting with hundreds of eyes, which are PTZ Cameras capable of rotating and scanning to monitor large areas to recognize faces, emotions, age, gender, etc of people in the observation area.
Not only limited to tracking and identification like some other AI solutions, EyePro also has the ability to interact with the observed person by displaying on screens located in the monitoring area, or sending notifications. to Mobile Apps on Mobile Phones, e.g. reminder, alert, etc.
Due to the above flexibility, the application range of EyePro is very wide from applications such as class attendance, to store monitoring, business timekeeping, etc.
EyePro products have been applied in a number of companies and state agencies such as Ho Chi Minh National Academy of Politics, ANVIET Group, etc.
According to information from VDSMART Company, EyePro products are still being developed and upgraded to target applications in Smart City – Smart City.
Reference Link: http://giaithuongsaokhue.vn/danh-sach-2021/